Classified by "The National Trust of Australia (New South Wales)" in 1983. An extract from the report prepared in support of the Trust's action, and subsequently sent to the then owners of the property (Mr J & Mrs T Fitzgerald), in a letter dated 12th July 1983, details the following information:
Description:

2 gravestones stand on a grassy slope between the road and the river. They are erected to John Brown (d1857) (sic) and his wife. John Brown was the original grantee; he arrived with the 2nd Fleet. The headstones are simple Georgian Sandstone tablets. The previous owner of the land apparently found a number of headstones lying on this site and rerected (sic) the two which were not damaged. Fragments of another two monuments are stacked under some trees behind the house across the road. One of these stones is to John Herps the other is illegible. The Herps family owned the land around 1880-1950. In this pile of fragments is a stone inscribed "Fluffy" presumably a memorial to a cat. The site where the two monuments have been reerected (sic) has a pleasant outlook along the Casuarina, Acacia, and Willow lined banks of the Hawkesbury.

The remaining, legible inscriptions are:

SACRED TO THE MEMORY OF
EDITH BROWN

SACRED TO THE MEMORY OF
JOHN BROWN

WHO DEPARTED THIS LIFE AUGUST 20, 1837
AFFLICTIONS SORE LONG TIME I BORE
PHYSICIANS WAS IN VAIN TILL GO D DID
PLEASE MY LIFE TO CEASE AND EASE
ME OF MY PAIN.

Reasons for Listing:

The headstone of John Brown, though not over his grave, has been picturesquely sited within the land of which he was the first grantee, and is therefore significant. Its date (before civil registration) and the fact that he was a 2nd Fleeter add to its importance. This site demonstrates that it is possible to sympathetically reset monuments in a way which preserves their integrity.
During a several site visits in September 2003 and speaking to the current owner (Carol Jekstadt), only the two BROWN monuments remain. On closer inspection and with further research backing up the finding, it has been confirmed that the headstone originally transcribed as EDITH BROWN actually reads JUDITH BROWN.
The remaining fragments (located on the opposite side of the road) containing the JOHN HERPS and HERPS family graves, no longer exist.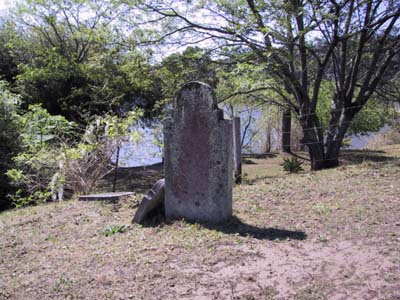 Above: Headstones at Brown's Cemetery (private property)