Additional Notes:
Research undertaken has shown that this grave is that of Sheldrick Wesley Gordon Chaseling. Information includes :
Sheldrick Wesley Gordon CHASELING born 12th October 1906 died 3rd July 1915 aged 9 years - 6th child of Cyrus Chaseling and Mabel Mary Jane Chaseling nee Rein/Rien - scalded with hot rice and died on the way to Windsor Hospital by boat. Source(s): "Cornstalks 1988: A Genealogy" by Valerie Ross (Sydney: Valross P/L, 1987) pp. 575, 577; "Chaseling Family Cemetery at Leets Vale" (date / author unknown) copy held at Hawkesbury City Library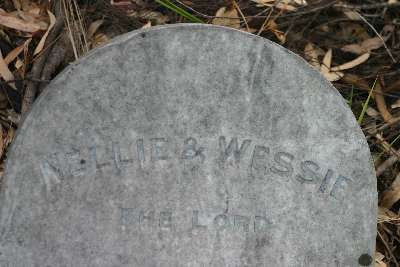 NELLIE & WESSIE / THE LORD / HAS OPENED TO OUR / DARLINGS THE TREASURES / OF HEAVEN. / 1912 - 1915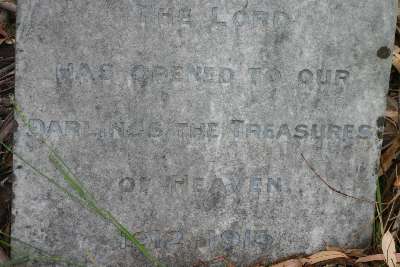 The following photograph was taken by Coralie Hird in August 1991.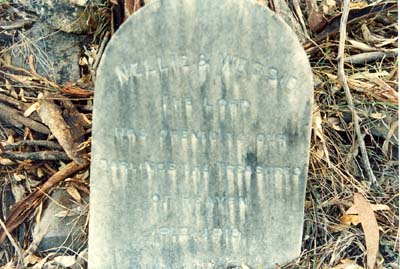 "It is with sorrow that we have to report the death (under painful circumstances) of the little son of Mr and Mrs Cyrus Chaseling, of Australian Farm. Leets Vale. He was a bright little fellow, four years and nine months old, and died on the way to Windsor from the result of scalds, accidentally received at on Friday last. Mr Chaseling set out in his motor launch on Saturday morning to bring the child to Windsor for medical treatment, but the little sufferer died when they reached Sackville. The father returned home, and the remains were laid to rest in the private cemetery on Australian Farm on Saturday afternoon. Rev. B. Hobson, Methodist, conducted the service, and Mr. David Books carried out the duties of undertaker.
Reported from WISEMANS FERRY for the Windsor & Richmond Gazette 9 July 1915