Additional Notes: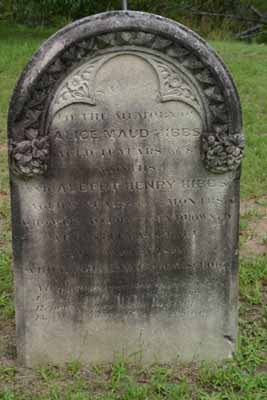 SACRED / TO THE MEMORY OF / ALICE MAUD HIBBS / AGED 11 YEARS AND 8 / MONTHS / AND ALBERT HENRY HIBBS / AGED 8 YEARS AND 3 MONTHS. / WHO WERE ACCIDENTALLY DROWNED / AT GENTLEMANS HALT / 29TH JANUARY 1891 / WHILE RETURNING FROM SCHOOL / All you … to see / ...to follow us / Repent ... / For we ... trust were called away.
Extract from the Windsor & Richmond Gazette. February 7, 1891 (page 6):
"A drowning accident - News reached Wisemans Ferry on Saturday that the two children of George Hibbs, who lives near the mouth of the Mangrove Creek, a boy eight years and a girl 14 years, were drowned on Wednesday evening in the Hawkesbury River, and their bodies have not yet been recovered. It appears that coming from Gentleman's Halt Public school they walked over the mountain, and opposite their home waited for the boat to convey them across the Hawkesbury. The boy picked up a bottle and threw it into the river, and went on a rock, aiming with stones at the object floating in the river. Losing his balance, he fell into the water. His sister at once came to his assistance, but in trying to save her brother she got beyond her depth, and both sank. On Monday, the Gosford coroner, Mr. A. Gordon, held an enquiry at Mangove Creek upon the bodies of Alice Maud Hibbs, aged 14, and Albert henry Hibbs, aged 8, who were accidently drowned in the Hawkesbury River while returning from school. A verdict of found drowned was returned."