Cemetery is also known as "McGraths Hill Methodist Cemetery, McGraths Hill", "Methodist Cemetery, McGraths Hill", "McGraths Hill Wesleyan Cemetery, McGraths Hill", "Wesleyan Cemetery, McGraths Hill", "Windsor Methodist Cemetery, McGraths Hill", "Windsor Wesleyan Cemetery, McGraths Hill" and "Methodist and Congregational Cemetery, McGraths Hill". Also note that there are several variations in the way McGraths Hill is written, including Magraths Hill, Magrath Hill and Macgraths Hill.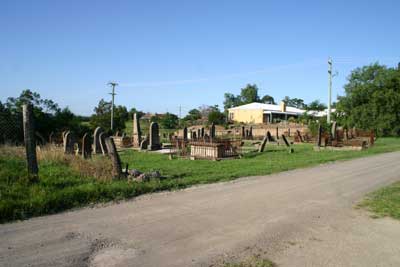 Above: View of McGraths Hill Cemetery from High Street.
BRIEF HISTORY
The site is located on the corner of Charles & High Streets at what is now known as McGraths Hill. (It was originally called Magraths Hill) The Wesleyan Methodist Cemetery for the Windsor parish was established at McGraths Hill in the early 1850s. Prior to this date the Wesleyan and Methodists of the area were buried elsewhere, including the Windsor Presbyterian Cemetery near the Windsor railway Station.

In 1850 the Wesleyan Burial Ground Trust was established with members from the local Methodist church appointed as trustees. A small piece of land was purchased from local identity, Mr Crew. Although several headstones exist prior to 1850 including William Robinson 1839; Richard Dyer 1842 and Matthew Walker 1850, these are possibly memorials and were more than likely established at a later date. The headstone of Rebecca Cavanough who died in 1851 is possibly the oldest headstone in the cemetery. There are 185 names recorded from surviving headstones. Research is currently being undertaken on persons buried at the cemetery without a surviving headstone. To date there are about 30 names confirmed.

The cemetery was operated by a trust with members from the Methodist Church and later the Presbyterian Church. In 1977 the Uniting Church in Australia was established with the merging of theMethodist Church, most Congregational CHurches and the majority of congregations of the Presbyterian Church. In the 1960s-1970s, the control of many cemeteries in NSW were transferred to local government therefore the Hawkesbury City Council is now the operating body of the cemetery at McGraths Hill.
Unmarked Burials
Information collected from various sources, inlcuding death certificates submitted to the Hawkesbury on the Net: Cemetery Register team list the following individuals as being buried at McGraths Hill Cemetery, where no headstones exist today. They include :
Fuller, George
Gambrill [nee Ransley], Sarah
Gambrill, William
Sutton, Thomas