Notes: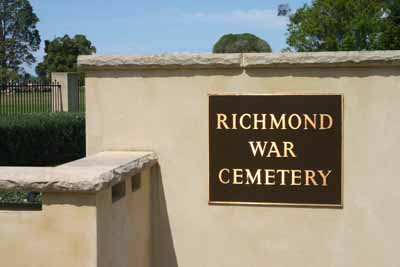 RICHMOND WAR CEMETERY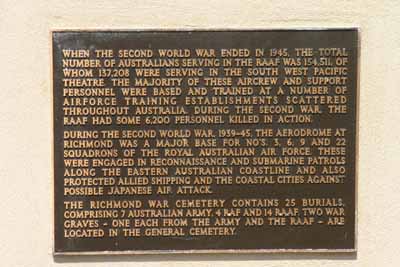 WHEN THE SECOND WAR ENDED IN 1945, THE TOTAL / NUMBER OF AUSTRALIANS SERVING IN THE RAAF WAS 154,511, OF / WHOM 137,208 WERE SERVING IN THE SOUTH WEST PACIFIC / THEATRE. THE MAJORITY OF THESE AIRCREW AND SUPPORT / PERSONNEL WERE BASED AND TRAINED AT A NUMBER OF / AIRFORCE TRAINING ESTABLISHMENTS SCATTERED / THROUGHOUT AUSTRALIA. DURING THE SECOND WAR, THE / RAAF HAD SOME 6,200 PERSONNEL KILLED IN ACTION.

DURING THE SECOND WORLD WAR, 1939-45, THE AERODROME AT / RICHMOND WAS A MAJOR BASE FOR NO'S. 3, 6, 9 AND 22 / SQUADRONS OF THE ROYAL AUSTRALIAN AIR FORCE. THESE / WERE ENGAGED IN RECONNAISSANCE AND SUBMARINE PATROLS / ALONG THE EASTERN AUSTRALIAN COASTLINE AND ALSO / PROTECTED ALLIED SHIPPING AND THE COASTAL CITIES AGAINST / POSSIBLE JAPANESE AIR ATTACK.

THE RICHMOND WAR CEMETERY CONTAINS 25 BURIALS, COMPRISING 7 AUSTRALIAN ARMY, 4 RAF AND 14 RAAF. TWO WAR GRAVES - ONE EACH FROM ARMY AND THE RAAF - ARE / LOCATED IN THE GENERAL CEMETERY.