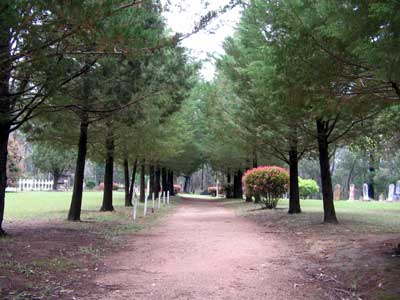 Above: View of the cemetery from the cemetery driveway.
History of Lower Mittagong Marist Brothers Catholic Cemetery
"The earliest reference … to the (Lower Mittagong, Diamond Fields Road Catholic) Cemetery in any legal document is in Edwin Chisholm's Application to Bring Lands Under The Provisions Of The Real Property Act (26 Victoria No. 9), dated 3rd May, 1898. This document states 'that the owners and occupiers of adjacent lands are as follows:- … part by the Trustees of the Roman Catholic Cemetery c/- Rev. Father Sheridan, Mittagong …'
It would seem that in the 1850's the Burke family which owned the property at Lower Mittagong set aside about one acre of their land for a Roman Catholic Chapel and burial ground.
Mittagong at this time was part of the Berrima Parish established in 1847. in the Marriage Register for Berrima we find that Marriages were celebrated not only at Berrima and Sutton Forest in the 1850's but also in private homes in Mittagong, Bungonia and Marulan.
The Chapel was built about 1859 for the earliest headstone indicated that the first burial took place in 1861. The Chapel lay east-west.
The road leading to the Cemetery was then called Chapel Lane and the hill known as Chapel Hill.
About 1907 the Cemetery was closed and remained so until 1917 in an extract from Mittagong Argus 1st November 1902 we find: "Sydney Water and Sewerage Board stated that the C of E and R.C. Cemeteries Lower Mittagong were on Catchment area and their closure was demanded.
From 1910 until 1918 six Brothers were buried in Welby Cemetery on the south side of Mittagong; from 1919 a section of the old Cemetery was set aside for the burial of Brothers, usually those who have spent a number of years in the Marist Brothers training Centres at Mittagong.
While Brother Arcadius Sullivan was Provincial, this Cemetery was made over to the Marist Brothers by the Burke Estate.
The donor, Edmund and Mary Burke are buried in a double grave just in front of the old Chapel of Ease... the grave faced the entrance to the Chapel, the Sanctuary of which faced due east."
Extract from "Cemetery – Lower Mittagong" by Brother Francis - Marist Publishing 15th August 1990.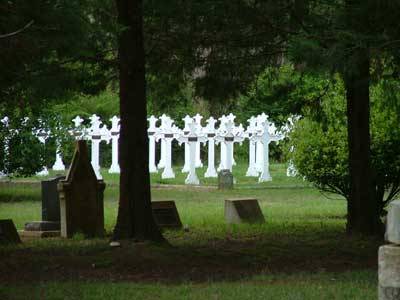 Above: View of the Marist Brothers section in the cemetery.