Row 11
Located away from the main cemetery, over near the railway station, covered in tall grass and bush.
During the cemetery survey in December 2004 and January 2005, only two plots were located in this area - a damaged vault of the Walker family (with the inscriptions for Walker, Alfred William, Walker, George Jonathan Hassall and Hassall, Mary Cover), plus a plot for Court, Henry M. that included a broken headstone and footstone.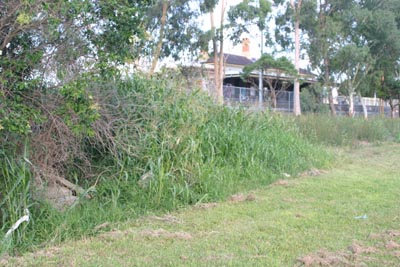 Above: Location of Row 11 in relation to Windsor Railway Station
Reference to an earlier cemetery transcription carried out in 1984 do not list the two plots in row 11 located in this survey but do list three additional plots that could not be located in this area during this current survey. The inscriptions for these missing plots are included below.
Sacred To The Memory of JENNET RITCHIE WHO DEPARTED THIS LIFE ON THE 27/12/AD 1842 AGED 62 YEARS (1 footstone and 1/2 headstone unreadable)

SAMUEL WILLIAM 2?/12/?? AGED 4 YRS Also EDWIN SH... AGED (41 or 11)

Sacred To The Memory of WILLIAM FLEMING NATIVE OF DU... IRELAND WHO DEPARTED THIS LIFE THE 5TH APRIL AD 1852 AGED 4?2 YRS THE WAS HIS WIFE & CHILD TO LAMENT HIS LOSS
Unmarked Burials
Information collected from various sources, including death certificates submitted to the Hawkesbury on the Net: Cemetery Register team list the following individuals as being buried at Windsor Presbyterian Cemetery, where no headstones exist today. They include :
Flemming, William
James, Humphrey [aka Whirlpool VC, Frederick]
Johnson, Frederick Ernest
Johnson [nee Moston], Pearl Violet Elizabeth Annie
Mclean, Eliza
Mclean, Mary
Ritchie, Jennet
Sh??, Edwin
William, Samuel