Quick CONVICT RESEARCH CHECKLIST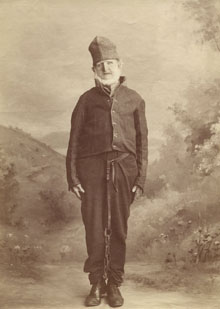 Bill Thompson (Old William Thompson) by John Watt Beattie (1859–1930) (State Library of Tasmania) [Public domain], via Wikimedia Commons
View this image

Transport
Name of convict
Which transport and voyage number
Date of departure and date of arrival
Obtain a copy of the ships Indent. It may contain some or all of the following information
From port sailed
Tons
Master Surgeon
Where tried and type of court i.e. Assizes / Quarter Session etc
When tried
Sentence received
Offence
Age
Native Place
Calling
Remarks
Physical Description eg hair colour, eye colour, complexion, height, scars, tattoos etc
Marital Status
Number of children
Education eg could read &/or write
Religion
Number of previous convictions
Ticket of Leave, Conditional Pardon : Absolute Pardon; Certificate of Freedom
Assigned to, on arrival
Is there a drawing of the convict transport available?
How many other convicts on board?
Did your convict (male or female) bring children with them ?
Were both males and females transported on this ship?
Was there sickness on board ?
Any lost overboard?
Type of trip eg was there a mutiny?
Ships Log – Surgeons Report available
Where built ?
By whom owned ?
Where registered?
What else did it carry?
Which route did the vessel take and which ports did it visit
What did it carry on return voyage?
Newspaper reports of transports arrival eg Sydney Gazette, Sydney Herald Is there a mention in the Historical Records of Australia Is there a mention in the Log of Logs
The Court and Crime
Were other convicts tried at the same court on the same day for the same crime
Did he/she spend time on a Hulk before embarkation?
Are there Prison Hulk Records available?
Is there a drawing or photograph of the court available?
Are the prison records available?
Obtain the Trial Records
Did the convict Petition for clemency?
Assignment:
On arrival to Government or private employer?
If Government – how long, which department?
If Private – to whom assigned? for how long? – What type of work did he/she perform?
Other assignments – same as above
Ticket of Leave:
Ticket of Leave. How many? For which districts?
Obtain copy of the Butt
Any interesting notations on these Butts?
Did they lose the indulgence of a TOL? Why?
Passports
Were they issued with a Passport to move temporarily to another district?
Why and for what reason
Obtain copy of the Butt
Certificate of Freedom:
When obtained?
Was it on completion of sentence or for some special assignment for the government?
Obtain copy of the Butt
Certificate of Exemption
Date?
With whom were they allowed to reside?
What was the relationship to the person they were allowed to reside?
Obtain Butt of Certificate of Exemption
Absolute Pardon:
Date received
Why received?
Recommended by ?
Conditional Pardon:
Date of recommendation?
Date of receipt?
Recommended by ?
Did he/she petition the Governor for a Pardon?
Colonial Secretary Letters:
Any mentions? Why? What for? Obtain copies
Musters/Census:
Follow through with each one available and if listed, and check under every spelling variation possible.
Are the children also listed?
Were they listed as being On/Off Stores?
Are they listed as having property? Stock? Grain? Number of cattle etc
Good guy/bad guy:
Any colonial crimes? For what? When? Where sent? Any newspaper reports?
Any punishments received eg lash, solitary, death by hanging.
Were they sent to another settlement eg Newcastle, Port Macquarie, Moreton Bay, Norfolk Island, VDL?
Did they achieve anything remarkable? Any newspaper reports? Any citation from the Governor?
Did they become Constables or join the Loyal Association or military?
Where born:
Is native place mentioned on Indent, TOL or any Pardon received
Country and County Birth certificate
Parents names
Siblings names
Did parents, siblings or cousins arrive as convicts
Did parents or siblings arrive as free settlers
Did the convict or parents or siblings petition to travel to NSW
What religion were they
Marriage:
Prior marriage at home.
Did that spouse join him/her?
Marriage in Australia.
Did he/she obtain permission?
Was it by Banns or Licence? When, When and by whom married.
Who acted as witness?
If both still under Bond, were they both employed by the same Master?
If living in a de facto relationship, why? For how long ?
Did the convict have multiple partners?
Did the husband or wife leave the marriage for any reason?
Petition for family to join convict?
Children:
Did they have children before they were transported?
What happened to them?
Children born in Australia. Name, date of birth, where born, Baptism record
Were they all born to the same partner?
Were they educated ? at home ? at school ? Sent back to the UK or elsewhere for their education?
Who did the children marry
Did the children marry someone within the same community or perhaps a child of a fellow convict ?
Were the children sent to an orphanage at any stage?
Land Grants & Leases:
Did they purchase or obtain their land through a free grant or lease ? Where, when, how?
Were they squatters? Where? When? Why?
Residence:
Did they own a house? From what was is made eg stone, timber, wattle and daub, mud?
Location of residence / Farm
Does it still exist?
When did they live there from – to?
Did they move around? Why?
Did they own a farm? What did it produce? Who did they sell their produce to?
Any major setbacks? Eg. floods, drought?
Money:
Did they arrive with money that was deposited on arrival? How much? For how long?
Did they acquire a bank account when free?
Were they declared bankrupt?
Were they wealthy or poor? Why?
Occupation:
When tried When living in Australia
Did they have any professional training ?
Did they work in a trade or any specialised field ?
What do the various musters and census state
Home life in general:
Do you think they were successful?
What did they do for leisure?
Did they attend church?
Who were their friends?
Did either escape? abscond ?
Did they travel back to their homeland? how, when, why and if so, did they return?
Death:
When? Where? Why? Obtain death certificate if possible.
Are they recorded in the Convict Death Index?
Where buried? With whom? Anyone else in the grave?
Was there a headstone? Does it still exist?
Did they leave a Will? How was the property distributed & to whom
Is there an Obituary available
Did the children or parents die from any particular disease prevalent at the time?
Photographs / Portraits / Drawings:
Any photographs available of person? Children? House? Grave/Headstone?
General
Follow through – say each 5 or 10 years of the life of the convict
What was going on in the colony during each of these time periods?
How did the different Governors affect their lives?
How did other things eg weather, impact on their lives?
Quick CONVICT RESEARCH CHECKLIST © Lesley Uebel 2003

Lesley Uebel & Hawkesbury on the Net © 1998 - 2021