Three sides of the memorial have been inscribed: the front (facing the Hawkesbury River), right hand side and left hand side respectively. There is also a N.S.W. State Survey Mark located on the front right hand side of the square base of the monument. Photos and inscriptions in the above mentioned order follow.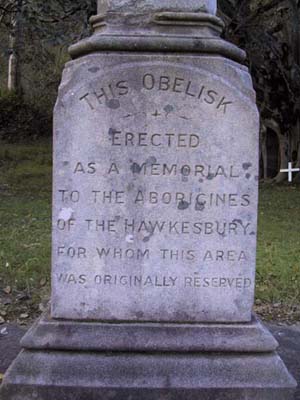 THIS OBELISK / ERECTED / AS A MEMORIAL / TO THE ABORIGINES / OF THE HAWKESBURY / FOR WHOM THIS AREA / WAS ORIGINALLY RESERVED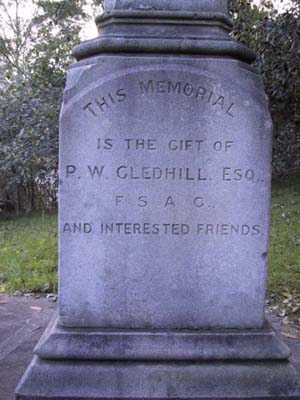 THIS MEMORIAL / IS THE GIFT OF / P.W. GLEDHILL. ESQ. / F S A G.. / AND INTERESTED FRIENDS.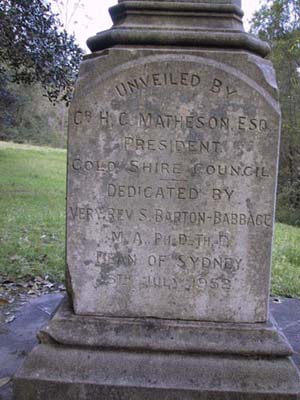 UNVEILED BY / CR. H. C. MATHESON. ESQ., / PRESIDENT. / COLO SHIRE COUNCIL. / DEDICATED BY / VERY REV. S. BARTON-BABBAGE / M.A., PH.D., TH.D. / DEAN OF SYDNEY. / 5TH JULY 1952.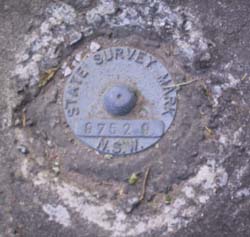 N.S.W. STATE SURVEY MARK 97529
For further information refer to "Shut Out from the World - The Sackville Reach Aborigines Reserve & Mission 1889 - 1946" written by Jack Brook.