The townspeople of the Hawkesbury district decided to establish a memorial to honour the memory of soldiers from the district that died whilst serving in the Boer War in South Africa during 1899 to 1902.
Monumental mason, George Robertson was appointed to design the obelisk shaped memorial, which was erected in McQuade Park (cnr George & Tebbutt Streets) Windsor. The money was raised by public subscription.
This area of the park was later renamed Memorial Park and now features the War Memorial for World War I, World War II, Korea and Vietnam close by. Although numerous soldiers enrolled from the district, only 4 soldiers lost their lives and are recorded on the memorial.
IN MEMORY / OF SOLDIERS FROM / WINDSOR & DISTRICT / WHO LOST THEIR LIVES / IN THE SERVICE OF / THE EMPIRE IN / SOUTH AFRICA
THIS MONUMENT WAS / ERECTED AS A TRIBUTE OF / RESPECT BY THE RESIDENTS / OF WINDSOR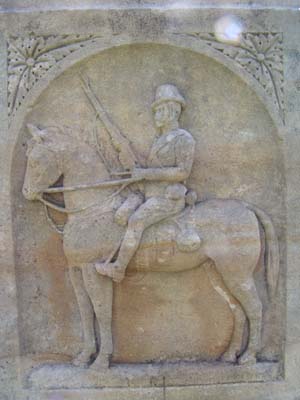 Above: Sandstone carved relief at the front of the memorial.
Above: Sandstone carved relief at the back of the memorial.