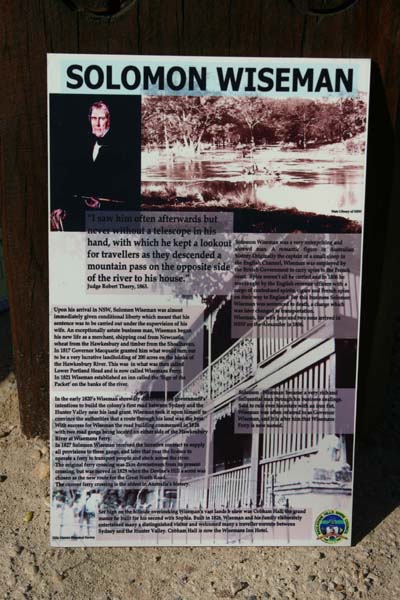 SOLOMON WISEMAN
"I saw him often afterwards but / never without a telescope in his / hand, with which he kept a lookout / for travellers as they descended a / mountain pass on the opposite side / of the river to his house." / Judge Robert Therry, 1863.
Solomon Wiseman was a very enterprising and / shrewd man. A romantic figure in Australian / history. Originally the captain of a small sloop in / the English Channel, Wiseman was employed by / the British Government to carry spies to the French / coast. Spies weren't all he carried and in 1806 he / was caught by the English revenue officers with a / cargo of contraband spirits, cigars and French spies / on their way to England. For this business Solomon / Wiseman was sentenced to death, a charge which / was later changed to transportation. / Wiseman, his wife Jane and two sons arrived in / NSW on the Alexander in 1806.
Upon his arrival in NSW, Solomon Wiseman was almost / immediately given conditional liberty which meant that his / sentence was to be carried out under the supervision of his / wife. An exceptionally astute business man, Wiseman began / his new life as a merchant, shipping coal from Newcastle, wheat from the Hawkesbury and timber from the Shoalhaven. / In 1817 Governor Macquarie granted him what would turn out / to be a very lucrative landholding of 200 acres on the banks of / the Hawkesbury River. This was in what was then called / Lower Portland Head and is now called Wisemans Ferry. / In 1821 Wiseman established an inn called the 'Sign of the / Packet' on the banks of the river.
In the early 1820's Wiseman shrewdly discovered the government's / intentions to build the colony's first road between Sydney and the / Hunter Valley near his land grant. Wiseman took it upon himself to / convince the authorities that a route through his land was the best. / With success for Wiseman the road building commenced in 1826 / with two road gangs being located on either side of the Hawkesbury / River at Wisemans Ferry . / In 1827 Solomon Wiseman received the lucrative contract to supply / all provisions to these gangs, and later that year the licence to / operate a ferry to transport people and stock across the river. / The original ferry crossing was 2km downstream from its present / crossing, but was moved in 1829 when the Devine's Hill a scent was / chosen as the new route for the Great North Road. / The current ferry crossing is the oldest in Australia's history.
Solomon Wiseman became a very rich and / influential man through his business dealings. / Said to rule over his estate with an iron fist, / Wiseman was often referred to as Governor / Wiseman, and it is after him that Wisemans Ferry is now named..
Set high on the hillside overlooking Wiseman's vast lands was Cabham Hall, the grand / manor he built for his second wife Sophia. Built in 1826, Wiseman and his family elaborately / entertained man a distinguished visitor and welcomed many a traveller enroute between / Sydney and the Hunter Valley. Cobham Hall is now the Wisemans Inn Hotel.