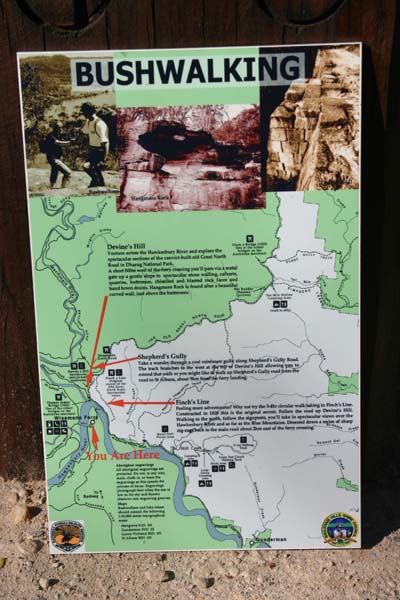 BUSHWALKING
Devine's Hill / Venture across the Hawkesbury River and explore the / spectacular sections of the convict-built old Great North / Road in Dharug National Park. / A short 500m west of the ferry crossing you'll pass via a metal / gate up a gentle slope to spectacular stone walling, culverts, / quarries, buttresses, chiselled and blasted rock faces and / hand hewn drains. Hangmans Rock is found after a beautiful / curved wall, just above the buttresses.
Shepherd's Gully / Take a wander through a cool rainforest gully along Shepherd's Gully Road. / The track branches to the west at the top of Devine's Hill allowing you to / extend that walk or you might like to walk up Shepherd's Gully road from the / road to St Albans, about 9km from the ferry landing.
Finch's Line / Feeling more adventurous? Why not try the 3-4hr circular walk taking in Finch's Line. / Constructed in 1828 this is the original ascent. Follow the road up Devine's Hill. / Walking to the north, follow the signposts, you'll take in spectacular views over the / Hawkesbury River and as far as the Blue Mountains. Descend down a series of sharp / zig-zags back to the main road about 2km east of the ferry crossing.
Aboriginal engravings / All aboriginal engravings are / protected. Do not, in any way, / mark, chalk in, or trace the / process of decay. Engravings / photograph best when the sun is / low in the sky and throws / shadows into engraving grooves. / Maps / Bushwalkers and bike riders / should consult the following / 1:25,000 series topographical / maps: / Mangrove 9131 3N / Gunderman 9131 3S / Lower Portland 9031 2N / St Albans 9031 2N.