Additional Notes:
Replacement inscription plaque on headstone reads:


IN MEMORY OF


CHARLOTTE HAYMAN
DIED NOVEMBER 11TH 1878, AGED 45 YRS.
ALSO
GEORGE HAYMAN
HUSBAND OF THE ABOVE
DIED JULY 23RD 1901, AGED 68 YRS.
BURIED ST. MATTHEW'S, WINDSOR N.S.W.
REPLACEMENT OF AGEING MEMORIAL INSCRIPTION
WITH THIS PLAQUE ARRANGED BY L. J. SCHOFIELD
GREAT GRANDSON OF THE ABOVE

14TH MAY 2001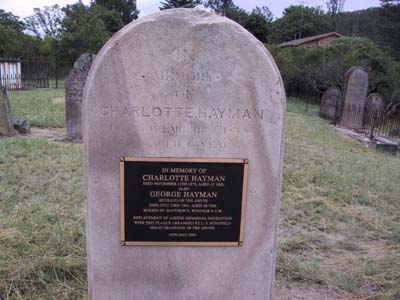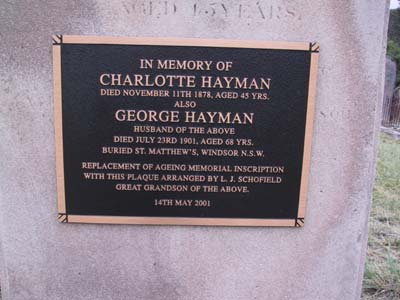 see George Hayman (husband), memorial on headstone of Charlotte Hayman.