MEETING DATES 2012
| | |
| --- | --- |
| 8 August | MICHELLE NICHOLS How Things Have Changed? celebrate Our 30th Birthday |
| 12 September | VICKI ELDRIDGE Teacher and School History Records |
| 10 October | JONATHAN AULD Identifying and preserving old photographs |
| 14 November | ANGELA PHIPPEN Wises Post office Directories for family and local research |
Meeting held 2nd Wednesday of the month at 10am in the Tebbutt Room, Windsor Library
Find us on Facebook www.facebook.com/HawkesburyFHG
Find the Library on Facebook www.facebook.com/HawkesburyLibrary
INFORMATION
FAMILY HISTORY CLASSES
ONLINE DATABASES FOR FAMILY HISTORY - Tuesday 18 September 6.30 - 8.30pm
Come along to this introductory session to learn more about some of the Library's online databases including Find My Past and Ancestry Library. Held Hawkesbury Central Library, $10 per person. Bookings Essential phone 4560 4460 or email history@hawkesbury.nsw.gov.au
LIBRARY EVENT - ADVANCED NOTICE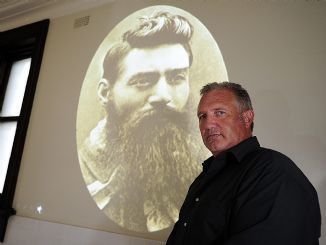 THE GIRL WHO LOVED NED KELLY WITH PAUL O'KEEFE
Thursday 13 September 6pm - 8pm
Paul O'Keefe shares the story of Ettie Hart, his Gt Gt Grandmother, the love Ned Kelly left behind. This is a remarkable yet factual story, taking you on a journey with the famous Australian legend of Ned Kelly. Tebbutt Room , Central Library, Windsor FREE - ALL WELCOME, BOOKINGS ESSENTIAL T:4560-4460
FOR YOUR INFORMATION
BOOK LAUNCH - HAWKESBURY REGIONAL MUSEUM
| | |
| --- | --- |
| | On Saturday 18 August 2012 at12.30 pm, the new book by Richard Cox called "William Cox: Blue Mountains Road builder and pastoralist" will be officially launched by Ian Jack. Among the many names associated with early Hawkesbury history, few are better known than that of William Cox. So it comes as a surprise that a book by his gt-gt-grandson, Richard Cox, is the first to be published on the subject of the man remembered as 'Cox the builder'. Cox is credited with building the road over the Blue Mountains, an incredible achievement: In just over six months, his team of 30 convicts hacked out 163kms of road through appalling terrain, without serious accident. As a pastoralist, Cox helped carry through the improvements that gave Australia its first significant wool exports, and he explored the source of the Lachlan River and organised provisions for John Oxley's expedition. Closer to home, Cox was the builder of some of our finest buildings, including Windsor Court House and St Matthews rectory, both designed by Francis Greenway. He was the first president of the Windsor Benevolent Society, chairman of the local Macquarie Memorial fund, and a vice-president of the Agricultural Society. He was also a popular magistrate, and a champion of rights for emancipists. RSVP Tel: 4560 4655. Refreshments will be served. |
AN EVENING WITH STEPHEN DANDO-COLLINS
Hawkesbury Historical Society have advised the above award winning author will be the guest speaker at their meeting on Thursday 23 August 2012. Stephen has recently compiled the fascinating story "Mistaken identity: the trials of Joe Windred" of Windsor. Talk begins at 8pm and is held in the Tebbutt Room of Hawkesbury Library, 300 George Street, Windsor and everyone welcome. Meeting is free, gold coin donation for refreshments.
REX STUBBS OAM MEMORIAL ANNUAL SCHOLARSHIP CLOSES 31 AUGUST 2012
Members of the Hawkesbury Family History Group are welcome to enter. Competition closes 31 August 2012. The scholarship funds the attendance of two people (one to be 16 - 26 years of age) at the annual Royal Australian Historical Society state conference. Scholarship recipients also receive a two year Royal Australian Historical Society membership. Brochures available from the Council, Library or http://www.hawkesbury.nsw.gov.au/news-and-events/community-awards/dr-rex-stubbs-oam-memorial-scholarship
REYNOLDS REUNION - DECEMBER 2012
Date to be confirmed but will be held in December 2012, before Christmas. Associated families are: Graham, Hodgetts and Jasper. To be held in Wilberforce Park, George Road, Wilberforce, opposite St Johns Anglican Church. BYO Food, drink, tables and chairs. For more information please contact Heather Green Tel: (02) 9636- 6046 or E: h_o_green@hotmail.com
EVERINGHAM FAMILY NEWS
Matthew James Everingham and Elizabeth Rimes get together at Wilberforce Date: Sunday 16th September 2012 -11am Venue: Wilberforce Park - Macquarie Road opposite Church Family souvenirs and trading post good will be for sale.
FAMILY HISTORY STATE CONFERENCE & EXPO 14-16 September 2012
Mark your diary for the above, to be held at Tradies Gymea, hosted by the Botany Bay Family History Society. Earlybird discounts now available. For list of speakers and more information see www.conference2012.org.au
NEW LOCAL STUDIES ITEMS
Below are new items available to consult in the Local Studies Collection at Hawkesbury Library. To check the Library catalogue online go to http://catalogue.hawkesbury.nsw.gov.au/amlibweb/ Check out the new issues of some of newsletters and magazines kept in Local Studies:
Your ancestors in their social context: proceedings of the 13th Australasian Congress on Genealogy and Heraldry, Adelaide 2012 Shelved at RL929.1072 AUS
The three sisters: A family history in Australia 1788 to 2011 / Robyn Ellis. Shelved at RL929.20994 ELL
The story of Bob Waterer and his family 1803-2010 / Nan Bosler. RL929.20994 WAT
Inside history magazine Shelved RLN INS and also copies for loan with magazines
SURFING THE INTERNET...SITES FOR FAMILY HISTORIANS
Members with internet access should check out the following interesting sites. The Library has free access to the internet, contact 4560 4460 for bookings at Windsor & 4578 2002 for Richmond bookings. If you have your own laptop we also have free wireless. The password is available from the Information Desk.
~ Let us know of sites, that you have tried with (or without) success ~
Hawkesbury Family History Group
meets every 2nd Wednesday of the month (except January) in the Tebbutt Room of Hawkesbury Central Library, 300 George Street Windsor NSW 2756. Anyone interested in family & local history, welcome to attend. Enquiries contact the Local Studies Librarian at above address T: (02) 4560-4466 E:
michelle.nichols@hawkesbury.nsw.gov.au