MEETING DATES 2014
---
| | |
| --- | --- |
| 10 December | Show & Tell plus Christmas Party |
| 2015 | |
| 11 February | ALLAN MURRIN Exploring the Familysearch website |
Meeting held 2nd Wednesday of the month at 10am in the Tebbutt Room, Windsor Library
Find us on Facebook www.facebook.com/HawkesburyFHG
Find the Library on Facebook www.facebook.com/HawkesburyLibrary
EVENTS
FAMILY HISTORY SURVEY
You are invited to participate in a unique Australian study conducted by Emma Shaw, a PhD candidate from the University of Newcastle. This study seeks to explore why people are engaging with family history and what they learn as a result. If you are interested in participating in this study, please take the anonymous online survey by clicking on the link http://hermes-history.net/fhr/
JANUARY 2015
You can all have a break in January, the next meeting will be 11th February 2015. The topic will be Exploring the Familysearch website with well-known speaker, Allan Murrin.
INTRODUCTION TO FAMILY HISTORY
University of Tasmania is offering a free online course called "Introduction to Family History" http://www.utas.edu.au/arts/introduction-to-family-history
14TH AUSTRALASIAN CONGRESS ON GENEALOGY & HERALDRY 26-30 MARCH 2015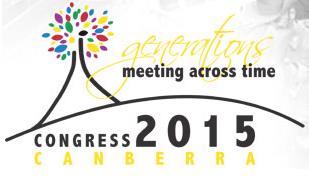 A great opportunity for new and experienced family historians to hear many of the world's best speakers on family history, genealogy and heraldry. HAGSOC & AFFHO invite you to attend. http://www.congress2015.org.au/
NEWS
Lennox Bridge
One of our earliest bridges found within the Lennox Bridge at Parramatta. See full article at http://www.smh.com.au/nsw/one-of-australias-first-bridges-found-within-parramattas-historic-lennox-bridge-20141206-11zwov.html
NEW MATERIAL
Some new items available in the Local Studies collection over the last month:
Last woman hanged by Caroline Overington
Shelved at RL364.1523 OVE **Copies also available in the lending collection at 364.1523 OVE
Putty tales & trails by Katherine McKenzie
Shelved at RL994.42 MCK
Merinos, myths & Macarthurs : Australian graziers & their sheep, 1788-1900 by J.C. Garran & L. White
Shelved at RL338.176368 GAR
SURFING THE INTERNET...SITES FOR FAMILY HISTORIANS
Members with internet access should check out the following interesting sites. The Library has free access to the internet, contact 4560 4460 for bookings at Windsor & 4578 2002 for Richmond bookings. If you have your own laptop we also have free wireless. The password is available from the Information Desk.
~ Let us know of sites, that you have tried with (or without) success ~
Hawkesbury Family History Group
meets every 2nd Wednesday of the month (except January) in the Tebbutt Room of Hawkesbury Central Library, 300 George Street Windsor NSW 2756. Anyone interested in family & local history, welcome to attend. Enquiries contact the Local Studies Librarian at above address T: (02) 4560-4466 E:
history@hawkesbury.nsw.gov.au