MEETING DATES 2015
---
| | |
| --- | --- |
| 2015 | |
| 11 February | ALLAN MURRIN Exploring the Familysearch website |
| 11 March | KATHERINE McKENZIE Putty tales & trails |
| 8 April | MICHELLE NICHOLS Hawkesbury Home front talk |
| 13 May | NOELINE KYLE Not So Ordinary Women — Researching & Writing Women in Family History |
Meeting held 2nd Wednesday of the month at 10am in the Tebbutt Room, Windsor Library
Find us on Facebook www.facebook.com/HawkesburyFHG
Find the Library on Facebook www.facebook.com/HawkesburyLibrary
NEXT MEETING
Kathy McKenzie is the guest speaker at the next meeting Wednesday 11 March 10-11.30am. She will be discussing 'Putty Tales and Trails' the subject of her recent book. She will discuss her research into the history of the township of Putty.
EVENTS
LIBRARY DISPLAY
Make sure you check out the display of 1915 outfits in the Library cabinet. The World War 1 exhibition at the Hawkesbury Regional Museum 8 Baker Street Windsor is also now available to view
FAMILY HISTORY CLASS
Beginning your family history - Tuesday 17 February 6.30-8.30pm
A FREE class for those starting out
Interpreting Births, Deaths & Marriages Resources - Tuesday 10 March 6.30-8.30pm
Find out what resources are available to search for births, deaths and marriages in your family history and then how to interpret the information. Cost $10.
Classes held Hawkesbury Library - phone 4560-4460 to book.
GENERATIONS MEETING ACROSS TIME 26-29 MARCH 2015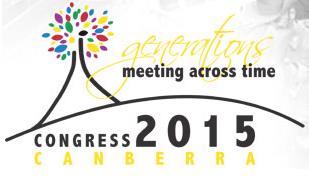 The 14th Australasian Congress on Genealogy & Heraldry which will be held in Canberra on 26-29 March 2015. It will bring together high quality Australian and international speakers and will provide opportunities for Congress participants to meet the speakers and to meet with other Congress participants who share the same interests and enthusiasm. Check the program and details now http://www.congress2015.org.au/
WHAT'S ON
Library Museum Gallery What's On March 2015 - May 2015 now available. Printed copies in Library or http://www.hawkesbury.nsw.gov.au/__data/assets/pdf_file/0004/67225/2015-March-May-Whats-on.pdf
VOLUNTEERS?
Expression of Interest for volunteers from the Hawkesbury Family History Group to write articles for the Hawkesbury Gazette during 2015. The articles are maximum 480 words, and require an appropriate illustration. The article must relate to the Hawkesbury, and not to be written about anyone who had been dead less than 50 years. Please email your interest to history@hawkesbury.nsw.gov.au
ROYAL AFTERNOON TEA WITH DENNIS OVERTON SATURDAY 14 FEBRUARY AT 2PM
Kurrajong & Comleroy Historical Society are holding a Royal Afternoon Tea on Saturday 14 February at 2pm at the Uniting Church Hall in Richmond. Hear Dennis Overton talk about Windsor Castle and its secrets. Contact joyshep1@bigpond.com or Carolynne 0417029685 RSVP 7 February.
LIONEL GILBERT 1924-2015
Well-known historian, Lionel Gilbert 1924-2015, associated with Armidale UNE; State Records NSW: Royal Australian Historical Society; Society of Australian Genealogist & Royal Botanic Gardens, Sydney has passed away aged 90. Passionate about Australian history he was fascinated by the folk art and epitaphs in cemeteries. He was the author "A grave look at history" RL994 GIL and 994 GIL and "The last word: two centuries of Australian Epitaphs" RL929.50994 GIL these are available to read in the Local Studies Collection and lending collection.
SURFING THE INTERNET...SITES FOR FAMILY HISTORIANS
Members with internet access should check out the following interesting sites. The Library has free access to the internet, contact 4560 4460 for bookings at Windsor & 4578 2002 for Richmond bookings. If you have your own laptop we also have free wireless. The password is available from the Information Desk.
~ Let us know of sites, that you have tried with (or without) success ~
Hawkesbury Family History Group
meets every 2nd Wednesday of the month (except January) in the Tebbutt Room of Hawkesbury Central Library, 300 George Street Windsor NSW 2756. Anyone interested in family & local history, welcome to attend. Enquiries contact the Local Studies Librarian at above address T: (02) 4560-4466 E:
history@hawkesbury.nsw.gov.au