MEETING DATES 2014
---
| | |
| --- | --- |
| 9 July | DR ANNE-MAREE WHITAKER William Cox and Cox's Road |
| 13 August | DR PERRY MCINTYRE Single female emigration in the 1830s & 1840s |
Meeting held 2nd Wednesday of the month at 10am in the Tebbutt Room, Windsor Library
Find us on Facebook www.facebook.com/HawkesburyFHG
Find the Library on Facebook www.facebook.com/HawkesburyLibrary
EVENTS
FAMILY HISTORY CLASSES
COMING TO GRIPS WITH THE CENSUS - Thursday 10 July 6.30-8.30pm In this session, find out how census and electoral records help confirm where people lived. Cost $10 ~ bookings essential phone 4560 4460.
NATIONAL FAMILY HISTORY MONTH – August 2014
Be part of National Family History Month in August 2014! It is a great opportunity to learn about the value of researching family history and of understanding the social context within which our ancestors lived. There will be hundreds of events held throughout Australia. Join in the fun and excitement of National Family History Month. To celebrate Family History Month, the following events will take place on behalf of Hawkesbury Library Service:
Local Studies Collection Open Day
Come along and check out what is available in the Local Studies Collection of Hawkesbury Library
Thursday 7 August 10am-2pm


Single Female Emigration 1830s - 1840s with Dr Perry McIntyre
Wednesday 13 August 10-11.45am


Breaking down your brickwalls
Tuesday 26 August 6.30-8.30pm**


Top 10 Hints for Family History
Saturday 30 August 11am-12.30pm**
**Bookings essential for these events - phone 4560 4460 or E: history@hawkesbury.nsw.gov.au
Information about other events can be found on the website http://www.familyhistoryweek.org.au/
NEW MATERIAL
Penrith : the makings of a city / Lorraine Stacker
Shelved RL994.41 STA - copies also available to borrow
James Gough : a very industrious man / Marion Starr
Shelved RL929.20994 GOU - copies also available to borrow
CROSSING THE BLUE MOUNTAINS DISPLAY 25 JULY TO 8 AUGUST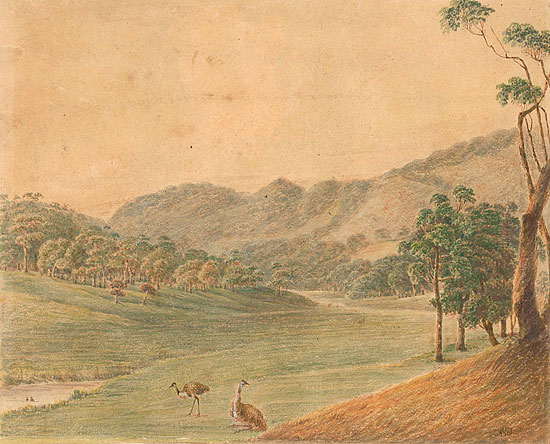 Image: Sydmouth [ie. Sidmouth] Valley, John Lewin, watercolour, c.1816, PXE 888/13A
Marking the anniversary of Gregory Blaxland, William Lawson and William Charles Wentworth's 1813 expedition to cross the Blue Mountains, this display features reproductions of the original colonial artworks by John William Lewin (1770-1819). In 1815, eager to see the new territory for himself, Governor Macquarie travelled to the Bathurst Plains. Lewin volunteered to join the entourage to document this previously unrecorded part of Australia's landscape. For Macquarie, these new lands were the future of the colony. This travelling exhibition from the State Library of NSW will be available to view at the Hawkesbury Central Library, 300 George Street, Windsor between 25 July to 8 August 2014. Phone 4560 4460. More info www.sl.nsw.gov.au/events/displays/2013/crossing_blue_mts/index.html
NEWS
EVERINGHAM FAMILY ASSOCIATION AGM
The 26th Annual General Meeting of the Everingham Family Association, will be held at the park opposite St John's Church, WILBERFORCE on Sunday 17 August 2014 at 11am. Followed by Lunch. Note the Everingham Foundation Day Reunion celebrating the marriage of Matthew James Everingham & Elizabeth Rimes on 13 March 1791 (224 years ago) and the Bi-centenary of the baptism of John Everingham on 21 May 1815 at Windsor will be held on Sunday 15 March 2015 at a venue to be announced.
SURFING THE INTERNET...SITES FOR FAMILY HISTORIANS
Members with internet access should check out the following interesting sites. The Library has free access to the internet, contact 4560 4460 for bookings at Windsor & 4578 2002 for Richmond bookings. If you have your own laptop we also have free wireless. The password is available from the Information Desk.
~ Let us know of sites, that you have tried with (or without) success ~
Hawkesbury Family History Group
meets every 2nd Wednesday of the month (except January) in the Tebbutt Room of Hawkesbury Central Library, 300 George Street Windsor NSW 2756. Anyone interested in family & local history, welcome to attend. Enquiries contact the Local Studies Librarian at above address T: (02) 4560-4466 E:
history@hawkesbury.nsw.gov.au