MEETING DATES 2012
| | |
| --- | --- |
| 9 May | JULIE & JOHN SWORD 'Family: The First Century' History of the Sword Family |
| 13 June | CAROL LISTON Accessing Land Titles Records |
| 11 July | LAURIE FORTH Life of Margaret Catchpole |
Meeting held 2nd Wednesday of the month at 10am in the Tebbutt Room, Windsor Library
Find us on Facebook www.facebook.com/HawkesburyFHG
Find the Library on Facebook www.facebook.com/HawkesburyLibrary
INFORMATION
FAMILY HISTORY CLASSES
Tuesday 15 May 6.30-8.30pm $10 'With this ring' - Family History Resources relating to marriages with Michelle Nichols, Local Studies Librarian. Bookings essential, phone 4560-4460 email history@hawkesbury.nsw.gov.au
CLOSURE OF STATE RECORDS CITY READING ROOM
Please note that the City (Rocks) Reading Room will continue to operate until Friday 29 June 2012. After that date only the Western Sydney Records Centre 143 O'Connell Street, Kingswood will be operational. For more information see the State Records website www.records.nsw.gov.au
'VERSATILE CLINTS' EXHIBITION
Last week to see the above exhibition in the Hawkesbury Regional Gallery which takes in many views around Windsor. The Exhibition is free and closes Sunday 13 May.
CAN YOU HELP?
The image below was recently presented to the library for identification. It is believed to be a school in the Windsor, Richmond or Kurrajong area. If anyone can assist in identifying, please let the Local Studies Librarian know by phone 4560-4466 or email history@hawkesbury.nsw.gov.au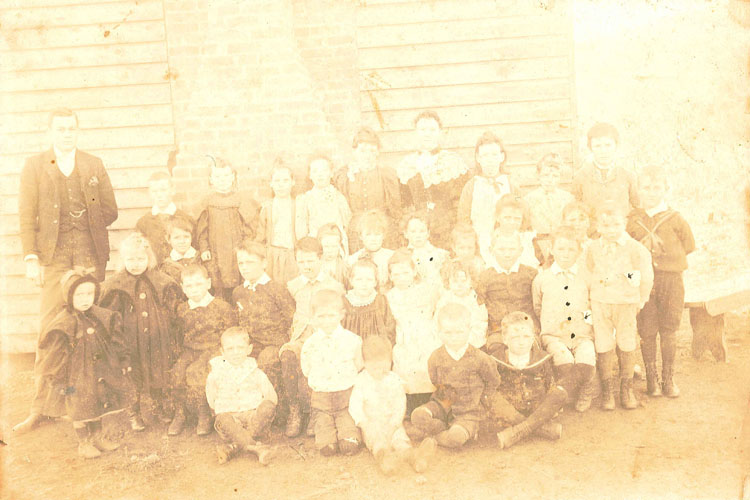 FAMILY HISTORY STATE CONFERENCE & EXPO 2012-05-07 14-16 September 2012
Mark your diary for the above, to be held at Tradies Gymea, hosted by the Botany Bay Family History Society. Earlybird discounts now available. For list of speakers and more information see www.conference2012.org.au
NEW LOCAL STUDIES ITEMS
Below are new items available to consult in the Local Studies Collection at Hawkesbury Library. To check the Library catalogue online go to http://catalogue.hawkesbury.nsw.gov.au/amlibweb/
'Online' microfilm of shipping lists
Have you found a name on the State Records online indexes for 'Assisted Immigrants arriving in Sydney, Newcastle, Moreton Bay and Port Phillip' at http://www.records.nsw.gov.au/state-archives/indexes-online/indexes-to-immigration-and-shipping-records/indexes-to-immigration-and-shipping-records The Index covers: Sydney and Newcastle, 1844-59; Sydney, 1860-96; Port Phillip, 1839-51 and Moreton Bay (Brisbane), 1848-59. If so did you know that you can access the digitised microfilms online as well from home? The passenger lists for Reels 2134 to 2145 are available to access and the ships are listed in chronological order of arrival. Just click on the ships name and then scroll through the list of names for that ship. Pages can be printed. Check out http://www.records.nsw.gov.au/state-archives/guides-and-finding-aids/nrs-lists/nrs-5316
SURFING THE INTERNET...SITES FOR FAMILY HISTORIANS
Members with internet access should check out the following interesting sites. The Library has free access to the internet, contact 4560 4460 for bookings at Windsor & 4578 2002 for Richmond bookings. If you have your own laptop we also have free wireless. The password is available from the Information Desk.
~ Let us know of sites, that you have tried with (or without) success ~
Hawkesbury Family History Group
meets every 2nd Wednesday of the month (except January) in the Tebbutt Room of Hawkesbury Central Library, 300 George Street Windsor NSW 2756. Anyone interested in family & local history, welcome to attend. Enquiries contact the Local Studies Librarian at above address T: (02) 4560-4466 E:
michelle.nichols@hawkesbury.nsw.gov.au