---
MEETING DATES 2015
| | |
| --- | --- |
| 2015 | |
| 11 November | MICHELLE PATIENT Is it true? Facts, fun & fiction in family history |
| 9 December | Show and Tell plus Christmas Party |
| 2016 | |
| | NO MEETING IN JANUARY |
| 10 February | MICHELLE NICHOLS Discovering historical photograph collections |
Meeting held 2nd Wednesday of the month at 10am in the Tebbutt Room, Windsor Library
Find us on Facebook www.facebook.com/HawkesburyFHG
Find the Library on Facebook www.facebook.com/HawkesburyLibrary
EVENTS
INVITE TO LIBRARY XMAS MORNING TEA – TUESDAY 1 DECEMBER 2015
Hawkesbury Library invites you the Hawkesbury Family History Group, to join us for our Christmas morning tea on Tuesday 1 December, 10am. Celebrate with the staff and the community. Launch of the Christmas Giving Tree and our Rewarding Reading Program for summer. Entertainment and refreshments. Special storytime for children with a visit from Puddles. All welcome adults, children & families. Enquiries 4560‐4460 or programs@hawkesbury.nsw.gov.au FREE – no need to book
SHOW AND TELL PLUS CHRISTMAS PARTY ‐ WEDNESDAY 10 DECEMBER 2015
The last meeting for the group will be Wednesday 10 December starting 10am. This meeting is Show and tell. Please bring along an item of interest to share with the group. It may be an old photograph, a memento or a useful resource. It is also our Christmas party so please bring along a plate to share for afterwards. Reminder that you can have a break in January, the next meeting will be Wednesday 10 February 2015.
TRACING SCOTTISH ANCESTORS – 25 November 2015
Join the Kurrajong Comleroy Historical Society's family history group for Tracing Scottish Ancestors with Duncan Macniven from Scotland, on Wednesday 25 November at 2pm. This is David's only public appearance whilst in Australia. Cost is $5 and includes afternoon tea. For more information & form to complete PTO >>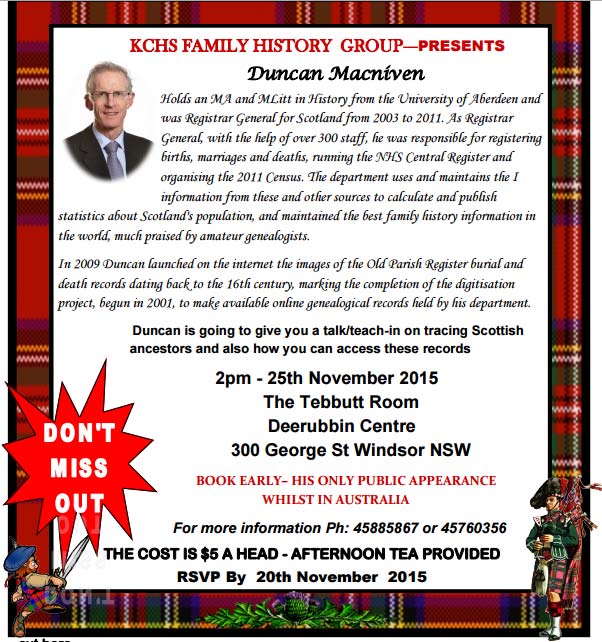 2016 HAWKESBURY AUSTRALIA DAY AWARDS

Nominations are now open for the 2016 Hawkesbury Australia Day Awards. The Hawkesbury Australia Day Awards program has been revised to better acknowledge citizens of the Hawkesbury. Do you know someone that deserves recognition? Of interest is the Commemorative Plaque category, in recognition of a resident or group who contributed significantly to the Hawkesbury. Information and nominations forms on Hawkesbury City Council's website. Nominations close 20 November 2015 at 5pm. www.hawkesbury.nsw.gov.au/services/people/community‐awards/australia‐day‐award
WRITING FAMILY HISTORY
Bring history to life through storytelling. The University of Tasmania is offering an online course called "Writing Family History" without fees http://www.utas.edu.au/arts/writing‐family‐history An online unit where you join other students "for an introduction to writing non‐fictional and fictional narratives based on real genealogical records."
SURFING THE INTERNET...SITES FOR FAMILY HISTORIANS
Members with internet access should check out the following interesting sites. The Library has free access to the internet, contact 4560 4460 for bookings at Windsor & 4578 2002 for Richmond bookings. If you have your own laptop we also have free wireless. The password is available from the Information Desk.
~ Have you visited any good websites lately? Please let us know history@hawkesbury.nsw.gov.au ~
Hawkesbury Family History Group
meets every 2nd Wednesday of the month (except January) in the Tebbutt Room of Hawkesbury Central Library, 300 George Street Windsor NSW 2756. Anyone interested in family & local history, welcome to attend. Enquiries contact the Local Studies Librarian at above address T: (02) 4560-4466 E:
history@hawkesbury.nsw.gov.au