MEETING DATES 2012
| | |
| --- | --- |
| 12 September | VICKI ELDRIDGE Teacher and School History Records |
| 10 October | JONATHAN AULD Identifying and preserving old photographs |
| 14 November | ANGELA PHIPPEN Wises Post office Directories for family and local research |
Meeting held 2nd Wednesday of the month at 10am in the Tebbutt Room, Windsor Library
Find us on Facebook www.facebook.com/HawkesburyFHG
Find the Library on Facebook www.facebook.com/HawkesburyLibrary
INFORMATION
FAMILY HISTORY CLASSES
ONLINE DATABASES FOR FAMILY HISTORY - Tuesday 18 September 6.30 - 8.30pm
Come along to this introductory session to learn more about some of the Library's online databases including Find My Past and Ancestry Library. Held Hawkesbury Central Library, $10 per person. Bookings Essential phone 4560 4460 or email history@hawkesbury.nsw.gov.au
REMINDER: LIBRARY EVENT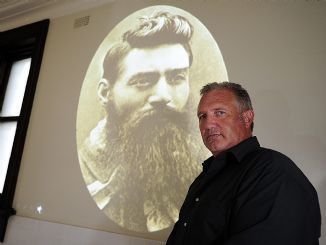 THE GIRL WHO LOVED NED KELLY WITH PAUL O'KEEFE
Thursday 13 September 6pm - 8pm
Paul O'Keefe shares the story of Ettie Hart, his Gt Gt Grandmother, the love Ned Kelly left behind. This is a remarkable yet factual story, taking you on a journey with the famous Australian legend of Ned Kelly. Tebbutt Room , Central Library, Windsor FREE - ALL WELCOME, BOOKINGS ESSENTIAL T:4560-4460
FOR YOUR INFORMATION
HOBB SEALS
| | |
| --- | --- |
| | Robert Hobbs was a convict who lived at Pitt Town until his death in 1839. He owned two seals and a locket, joined with a ring. These items surfaced when his probate was investigated in 1931 and were held by the NSW Public Trustees Office. The Seals are now on permanent loan to the Hawkesbury Library Service from the NSW Public Trustees Office and will be on public display in the Library until 30 September. |
DESCENDANT OF RICHARD NORRIS VISITING THE HAWKESBURY FROM NEW ZEALAND
Hilary Norris, a descendant of Richard Norris through Thomas, Michael, John Francis and Alan (in New Zealand) will be visiting the Hawkesbury on the 14 and 15 September staying at Sydney Gateway Holiday Park, Stanhope Gardens. If any descendants of the Norris' in the area would like to meet up with Hilary, please leave a message at the Sydney Gateway Holiday Park (ph 02 8814 4222). If anyone would like to make contact with Hilary but is not available to meet with her during these dates, please contact Cathy McHardy - cathy@nisch.org who will pass on contact details.
ROOKWOOD CEMETERY OPEN DAY & SPRING FAIR - SUNDAY 23 SEPTEMBER 2012
The annual Open Day at Rookwood will take place on Sunday 23 September 2012 between 9am-3pm Free entry. Organised by the Friends of Rookwood Inc. see www.friendsofrookwoodinc.org.au Days includes entertainment, tours, refreshments, talks. By car enter from Weeroona Road Strathfield, plenty of parking in cemetery. Train to Lidcombe station and free shuttle bus or walk. Bus Route 408 from Strathfield Station
MAITLAND FAMILY HISTORY FAIR - SUNDAY 21 OCTOBER
Maitland & District Genealogical Society Inc will be holding their Family History Fair on Sunday 21 October. Proudly sponsored by Find My Past Australia. For more information contact The Secretary, Maitland & District Genealogical Society Inc mdgs01@tpg.com.au
EXHIBITION OF WEDDING GOWNS AND VINTAGE CLOTHING
The Hills District Historical Society is holding a special open weekend on Saturday 6th and Sunday 7th October at their museum in Baulkham Hills at Building 10, Balcombe Heights Estate between 10am-4pm. The display coincides with History Week with the theme of "THREADS" – an exhibition of wedding gowns and vintage clothing. There will also be spinning and lace making demonstrations and antique style jewellery for sale. Contact details thehdhs@gmail.com or 9634-2670
FINDING FOUNDING MOTHERS
Finding Founding Mothers, an Australia-wide project to identify women involved in shaping the federation and the Australian Constitution in 1901 has been launched. These women, whose work helped turn colonies into states and create our nation, will be the stars of Women's History Month Australia in March 2013. Check out www.womenshistory.net.au to share in the federation of ideas and happenings in 2013! Australian Women's History Forum, PO Box 362, Curtin, ACT 2605 info@womenshistory.com.au
RYERSON INDEX PIONEER PASSES
RIP- Joyce RYERSON died 30 August 2012, aged 95 http://www.ryersonindex.org/
NEW LOCAL STUDIES ITEMS
Below are new items available to consult in the Local Studies Collection at Hawkesbury Library. To check the Library catalogue online go to http://catalogue.hawkesbury.nsw.gov.au/amlibweb/ Check out the new issues of some of newsletters and magazines kept in Local Studies:
Thomas Chaseland and the next generation / Pamela Goesch RL929.20994 CHA
SURFING THE INTERNET...SITES FOR FAMILY HISTORIANS
Members with internet access should check out the following interesting sites. The Library has free access to the internet, contact 4560 4460 for bookings at Windsor & 4578 2002 for Richmond bookings. If you have your own laptop we also have free wireless. The password is available from the Information Desk.
~ Let us know of sites, that you have tried with (or without) success ~
Hawkesbury Family History Group
meets every 2nd Wednesday of the month (except January) in the Tebbutt Room of Hawkesbury Central Library, 300 George Street Windsor NSW 2756. Anyone interested in family & local history, welcome to attend. Enquiries contact the Local Studies Librarian at above address T: (02) 4560-4466 E:
michelle.nichols@hawkesbury.nsw.gov.au