Contacting the team behind the Claim a Convict website is as simple as sending an email to claimaconvict@hawkesbury.net.au. Although every effort will be made to reply to your messages regarding the website, please allow a reasonable turnaround response time. We can also be contacted by mail at the follow address:
Claim A Convict
PO Box 246
Windsor NSW 2756
If you have specific family history enquiries, please direct your questions to the wider community on the AUS-PT-JACKSON-CONVICTS mailing list. Alternatively, if your enquiry relates to the Hawkesbury, Hills or Hunter Valley regions, then try the AUS-NSW-HILLS-HAWKESBURY-HUNTER-VALLEY mailing list, alternatively consult the other Rootweb mailing lists that are available.While we do not undertake research on your behalf we can refer you to organisations who maintain lists of professional researchers including the Society of Australian Genealogists and Australasian Association of Genealogists and Record Agents Inc.
Are you using social media? : the #ClaimAConvict hashtag has been registered with TWUBS. Researchers are encouraged to use the #claimaconvict #hashtag to promote the site.
Credits
The original Claim a Convict website was established by genealogist Lesley Uebel in 1998.
Lesley Uebel (1951-2014)
Lesley Uebel was born in Paddington Women's Hospital in March 1951, She spent her childhood with her parents and three sisters in the Eastern Suburbs and later in Lane Cove. She attended Chatswood High and Willoughby Girls High and originally trained as a Home Economist.
Travelling extensively throughout Europe and Africa in the early 70s, Lesley returned to Australia to work as an Administration Manager for a number of large commercial organisations, including one of Sydney's largest law firms. Lesley married Colin Kennedy in 1982. Through this period she had a keen interest in Irish and Scottish dancing and also participated in a number of City to Surfs. She was also an avid gardener and the property in West Pymble in which she and Colin lived is still a testament to this skill.
During the early 90s Lesley developed an interest in family history, particularly in relation to convict ancestry and her passion led to the establishment of the Claim a Convict site in 1998. Lesley also produced a number of very popular CDs and books, including the Port Jackson Anthology as well as the Index to the Sydney Gazette.
In late 2013 Lesley was diagnosed with incurable brain tumours and on the evening of Monday 20 January she passed away peacefully in her sleep at Neringah Hospital, an incredibly caring Palliative Care Facility in Wahroongah.
The hundreds of emails and list postings in response to Lesley's untimely passing have been a source of great comfort to her husband Colin, her sister Claire Wilkinson and special friends Coralie Hird and Wayne Carter. They are evidence that Lesley's work will live on long past her sad demise.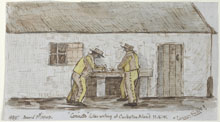 'Convicts' Letter writing at Cockatoo Island N.S.W. 'Canary Birds' by Philip Doyne Vigors
(State Library of NSW: a928881)
View this image
Images used on the site
A number of repositories have been used for the illustrations depicted on this site. Particular mention should be made of the fabulous collections of images that can be found in the State Library of NSW and the National Library of Australia - well worth a visit. All images have been attributed to the sources used and where appropriate a link to the original online version is provided.
We would also like to credit local Hawkesbury artist Jenny Lloyd for the use of several of her convict / ship themed work. So that visitors can fully appreciate her work, we have placed all of the illustrations used on one page in several galleries - see Jenny Lloyd Artwork. What is even more exciting for Claim a Convict users, is that Jenny is also willing to commission works of art based around your convict and / or ship - details available on the Jenny Lloyd Artwork page.