Also known as "St. Rose of Lima Cemetery, Lower Portland"
Permission is required by Hawkesbury City Council in order to access Half Moon Farm. A key is necessary to open the gates at the property entrance. Phone Hawkesbury City Council on (02) 4560 4444 during business hours.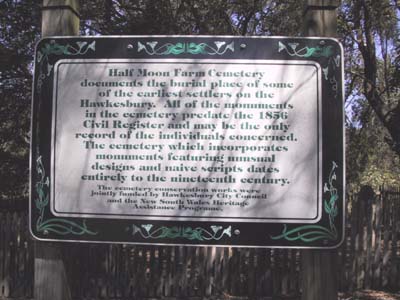 Above: Information sign at Half Moon Farm Cemetery.
Information sign reads:
"Half Moon Farm Cemetery documents the burial place of some of the earliest settlers on the Hawkesbury. All of the monuments in the cemetery predate the 1856 Civil Register and may be the only record of the individuals concerned. The cemetery which incorporates monuments featuring unusual designs and naive scripts dates entirely to the nineteenth century.

The cemetery conservation works were jointly funded by Hawkesbury City Council and the New South Wales Heritage Assistance Programe."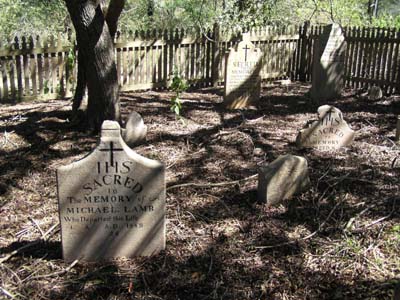 Above: Headstones at Half Moon Farm Cemetery
Unmarked Burials
Information collected from various sources, including death certificates submitted to the Hawkesbury on the Net: Cemetery Register team list the following individuals as being buried at Half Moon Farm Cemetery, where no headstones exist today. They include :
Hearne, John
Lamb, Michael
Moran [nee Howe formerly Harrison], Catherine
Reilly, Ellen
Sullivan [nee Stubbs], Elizabeth
Sullivan, Jeremiah
Woods, Henry James